Christina Warren ~ Fred A Anderson School Nurse
Hi! My name is Christina Warren. I have been employed with Fred A. Anderson Elementary School since 2014. I
received
my Bachelor of Science in Nursing from ECU in 2005 and obtained National Board Certification for School Nursing in 2015.
I believe students must be Healthy to be educated and educated to be Healthy!
During the state mandated school closure, please know that you can still contact me and our school social worker with any medical conditions and concerns including available community resources to assist your family.
For the Flu, Sickness, and Coronavirus:
Continue to be proactive:
Stay home when you are sick. If possible, stay home from work, school, and errands when you are sick. You will help prevent others from catching your illness. Avoid close contact with people who are sick.
Avoid touching your eyes, nose, or mouth. Germs spread this way.
Cover coughs and sneezes. Use a tissue to cover coughs and sneezes, then dispose of the tissue. When a tissue is not available, cough or sneeze into your elbow.
Clean and disinfect surfaces or objects. Clean and disinfect frequently touched surfaces at home, work or school, especially when someone is ill. Find additional CDC resources on how to clean and disinfect schools.
Wash hands for 20 seconds. Washing hands often under clean, running water can help prevent the spread of germs. For more guidance see the CDC: When and How to Wash Your Hands. If you cannot wash your hands, use alcohol-based hand sanitizer with at least 60-95% alcohol.
_________________________________________________________________________________________
School Nurse Guide to the
FLU
: Click the link below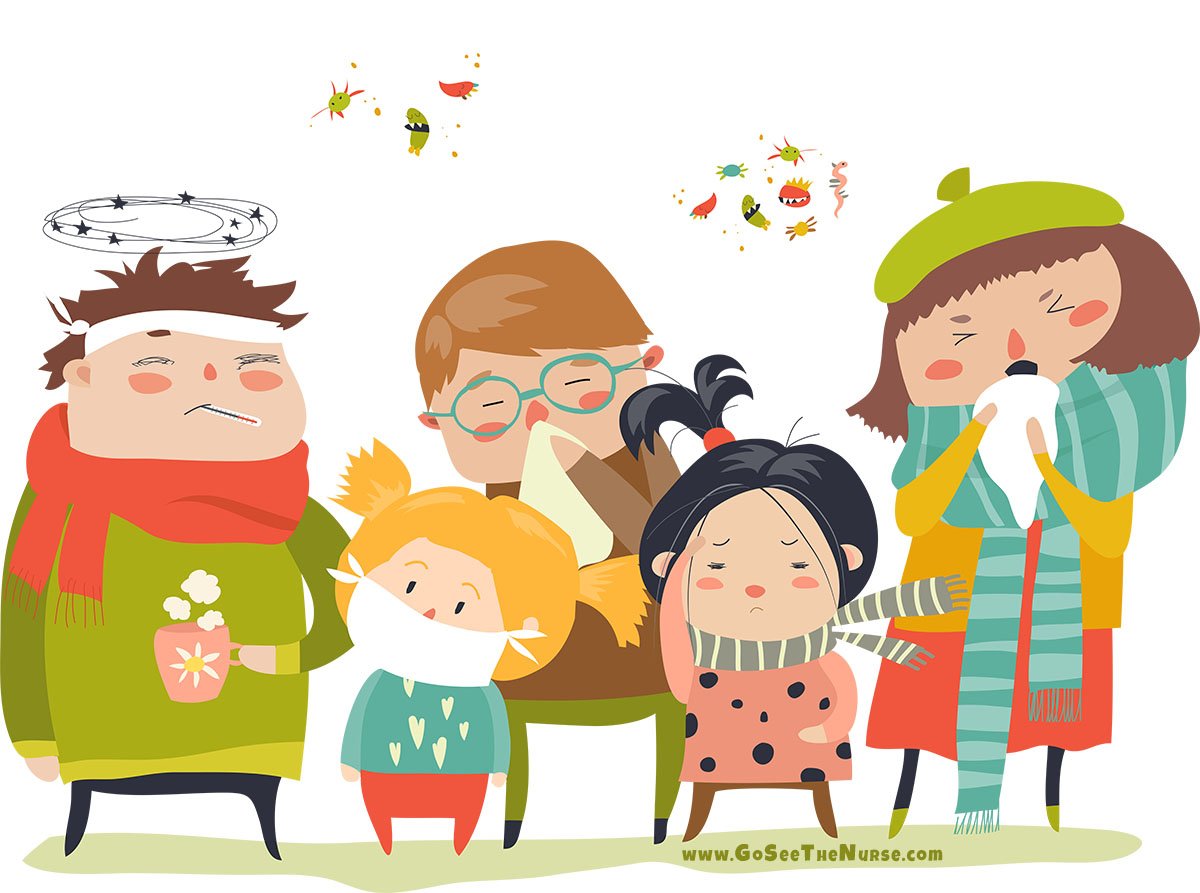 "

A person is considered contagious the day BEFORE symptoms are noted. Consider the person contagious for a minimum of SEVEN days AFTER the onset of flu symptoms. But, as great school nurses, we more than welcome parents to keep their children home for a bit longer. Shedding of the virus could last for longer than seven days in some folks. "
____________________________________________________________________________________________
...Strep throat
is a highly
contagious
bacterial infection that can make your
throat
very
sore
and scratchy. If you've been exposed to the bacteria, you can be
contagious
beginning a few days
before symptoms
start. You will remain
contagious until
you have been on antibiotics for at least 24 hours, please stay home until that time.
Clean your hands. Proper hand cleaning is the best way to prevent all kinds of infections. That's why it's important to clean your own hands regularly and to teach your children how to clean their hands properly using soap and water or an alcohol-based hand sanitizer.
Cover your mouth. Teach your children to cover their mouths when they cough or sneeze.
Don't share personal items. Don't share drinking glasses or eating utensils. Wash dishes in hot, soapy water or in a dishwasher
_____________________________________________________________________________________________________________________
Need another reason to WASH THOSE HANDS???
....HFMD, a common children's virus causing sores in the mouth and a rash on the hands and feet. Symptoms include fever, sore throat, feeling unwell, irritability, and loss of appetite. The virus usually clears up on its own within 10 days. Pain medications help relieve symptoms.
Please keep your child home if:

-- he/she is running a fever of 100 F or higher (as always)
--If the blister-like rash are weeping fluid and cannot be covered
--If coughing and sneezing cannot be controlled or the child is able to properly "cover the cough" or the sneeze
When to Stay Home from School
When to Stay Home from School - It is important for the health of all students, faculty, and staff that your child does not attend school when he/she is ill. If you have any questions or concerns about your child's illness, please call the school nurse or your licensed health care provider.
1) If your child is running a fever, please keep your child home until they are fever free for 24 hours without the use of fever reducing medications. Please send in a note when the child returns to school to inform of the reason of the absence.
2) If your child is vomiting or has diarrhea, please keep him/her at home until 24 hours after the last episode of vomiting or diarrhea. Send in a note to inform school of the absence and the reason.
3) If your child has a rash or lesion of unknown reason, he/she should be evaluated by a licensed health care provider before returning to school. Inform the school nurse. Please provide written documentation to the school nurse from the licensed healthcare provider indicating that your child has been cleared to return to school.
4) Pamlico County Schools does not have a No-nit policy regarding head lice. However, should you suspect head lice, please treat your child before bringing him/her to school. Following treatment, the student is to be brought to the school nurse for further evaluation. Please call the school nurse if you have any questions.
5) Open sores with or without drainage should always be covered. If you suspect staph infection, please have your child evaluated by a licensed health care provider indicating that your child may return to school.
6) Red or pink eyes, with complaints of itching, pain, watering, drainage or crusting should be evaluated by a licensed healthcare provider. The child may return 24 hours after the start of antibiotics. Pink eye (conjunctivitis) is highly contagious. If your child is absent, please send note to inform the school of the absence and the reason.
7) If your child has chicken pox, he/she may return to school after clearance from the licensed health care provider and when the blisters are dried and scabbed over (5-10 days after onset). Please call the school nurse informing her as soon as possible once a diagnosis is made.
If your child is new to NC Public Schools
The NC Health Assessment Transmittal Form must be completed within

30 days

of enrollment:
If your child must have medication of any type given during school hours, including over-the-counter drugs
You have the following choices:
1) You may come to school and give the medication to your child
2) You may have the medication form completed by your physician and bring in the medication in the original unopened container for over-the-counter or pharmacy labeled bottle for prescription medications. The medication will be administered according to the doctor's order.
3) You may discuss with your doctor an alternate schedule for administering the medciation
S
tudents are not to transport medications to or from school
An adult must bring the medication to the school office
See the Medication form below:
*Drop Box Locations North Carolina has medication drop boxes located in communities across the state where you can anonymously drop off unused or expired medications. Pamlico County has a drop box located at the Sheriff's Department for the disposal of medications.
If your child is allergic to certain foods or needs special
accommodations for mealtime
please see the link below
for the form that needs to be filled out: